WE ARE PLEASED TO ANNOUNCE THAT INNOVATIVE SPACE CARRIER INC.(CHUO-KU, TOKYO; CEOKOJIRO HATADA), A START-UP COMPANY THAT AIMS TO REALIZE A TRANSPORTATION SYSTEM THAT MAKES SPACE REUSABLEPOSSIBLE, HAS BEEN SELECTED BY THE MINISTRY OF EDUCATION, CULTURE, SPORTS, SCIENCE AND TECHNOLOGY (MEXT) FOR THE SMALL AND MEDIUM ENTERPRISE INNOVATION PROMOTION PROGRAM (SBIR PHASE 3) SPACE FIELD (PROJECT THEME: DEVELOPMENT AND DEMONSTRATION OF COMMERCIAL LAUNCH VEHICLES). (MAXIMUM GRANT AMOUNT: 2 BILLION YEN)
◾️ Background
 WE BELIEVE IN "A WORLD WHERE PEOPLE AND CARGO ARE DELIVERED EVERY DAY. OUR VISION IS TO ACHIEVE HIGH-FREQUENCY SPACE TRANSPORTATION IN THE 2040S USING FULLY REUSABLE SINGLE-STAGE SPACE VEHICLES (SSTOS). OUR VISION IS TO DEVELOP A REUSABLE SPACE TRANSPORTATION VEHICLE IN THE NEXT FIVE YEARS, WITH THE ULTIMATE GOAL OF CONDUCTING HIGH-FREQUENCY SPACE TRANSPORTATION USING A FULLY REUSABLE SINGLE-STAGE SPACE REUSABLEVEHICLE (SSTO) IN THE 2040S.
 To realize this goal, we submitted a project plan to the Ministry of Education, Culture, Sports, Science and Technology (MEXT) for a subsidy for the project to promote innovation creation by small and medium-sized enterprises (project theme: development and demonstration of commercial rockets), and our proposal was accepted and adopted.
◾️ Proposal
(Name of business plan)
Development and demonstration of a reusable space transportation system for small satellite launches
(Proposal details)
A world where people and cargo are delivered every day. We will build a cooperative framework with our business partners as a means to establish an internationally competitive space transportation business. In order to realize this vision, we will establish a cooperative framework with business partners and develop a reusable space transportation system capable of launching satellites as a means to establish an internationally competitive space transportation business.
 Specifically, a 100 kg class satellite launch vehicle will be developed through this project (TRL7 completed). The system will be reusable and upgradeable. The project will also jointly study with the partner companies on the necessary considerations for commercialization, such as improvement of maintainability and insurance for reusable operations.
 Demonstration flights will be conducted through the subsidized projects, and after the subsidized projects, efforts will be made to overcome issues necessary for commercialization and to accelerate social implementation.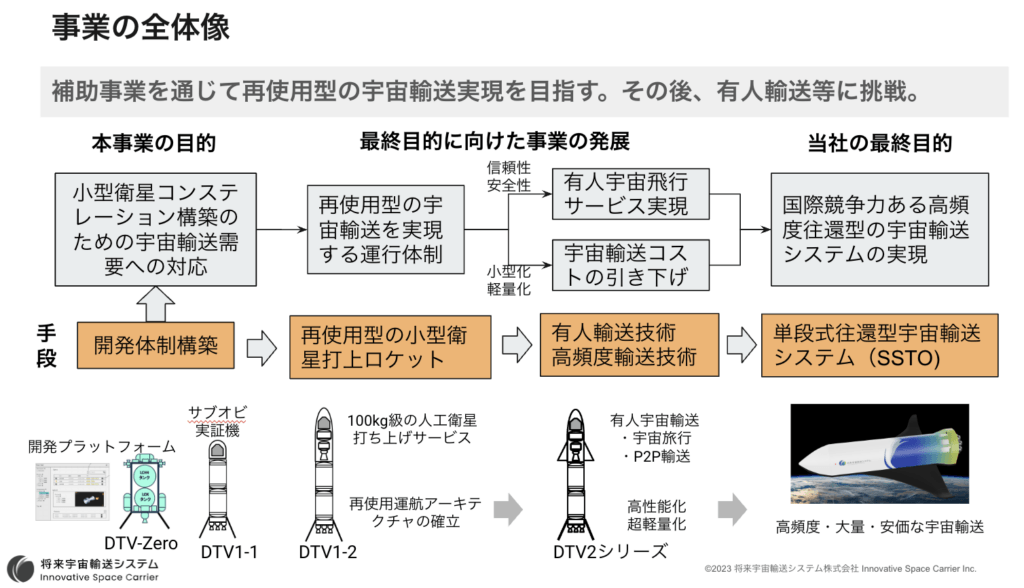 ◾️Summary of the adopted grant project
(Name)
MINISTRY OF EDUCATION, CULTURE, SPORTS, SCIENCE AND TECHNOLOGY (MEXT) SME INNOVATION PROMOTION PROJECT (SBIR PHASE 3)
(Purpose of the Subsidized Project)
 UNDER THE SBIR SYSTEM, WHICH IS DESIGNED TO PROMOTE RESEARCH AND DEVELOPMENT BY STARTUPS ENGAGED IN INNOVATIVE RESEARCH AND DEVELOPMENT, SMOOTHLY IMPLEMENT THE RESULTS OF SUCH RESEARCH AND DEVELOPMENT IN SOCIETY UNDER THE GUIDANCE OF THE GOVERNMENT, AND PROMOTE THE CREATION OF INNOVATIONS IN JAPAN, THE GOVERNMENT WILL SUBSIDIZE ALL OR PART OF THE COSTS OF LARGE-SCALE TECHNOLOGY DEMONSTRATION PROJECTS (PHASE 3 PROJECTS) TO BE IMPLEMENTED BY STARTUPS TO LEAD TO THE SOCIAL IMPLEMENTATION OF SUCH TECHNOLOGIES IN JAPAN. THE SBIR SYSTEM IS DESIGNED TO PROMOTE THE SOCIAL IMPLEMENTATION OF STARTUPS' CUTTING-EDGE TECHNOLOGIES IN JAPAN BY SUBSIDIZING ALL OR PART OF THEIR COSTS WHEN THEY CONDUCT LARGE-SCALE TECHNOLOGY DEMONSTRATION PROJECTS (PHASE 3 PROJECTS) TO FACILITATE SOCIAL IMPLEMENTATION UNDER THE SBIR SYSTEM.
(Background and purpose of the project theme "Development and Demonstration of Commercial Launch Vehicles")
 WITH THE EXPANDING ROLE OF SPACE SYSTEMS IN SECURITY AND ECONOMIC SOCIETY, THE SPACE TRANSPORTATION MARKET IS EXPANDING, WITH DEMAND FOR MORE THAN 100 SATELLITE LAUNCHES EXPECTED IN JAPAN ALONE OVER THE NEXT 10 YEARS. IN ADDITION, THE RECENT UNCERTAINTY OF THE INTERNATIONAL SITUATION HAS FURTHER INCREASED THE DEMAND FOR LAUNCHES IN JAPAN. IN ORDER TO MEET THIS LAUNCH DEMAND AND TO ENSURE THAT JAPAN DOES NOT LOSE ITS INDEPENDENT MEANS OF ACCESS TO SPACE IN THE FUTURE, IT IS ESSENTIAL THAT JAPANESE COMPANIES DEVELOP AND COMMERCIALIZE INTERNATIONALLY COMPETITIVE COMMERCIAL LAUNCH VEHICLES. AT PRESENT, HOWEVER, JAPAN HAS YET TO DEVELOP A SPACE TRANSPORTATION BUSINESS IN THE PRIVATE SECTOR, WITH THE EXCEPTION OF THE CORE LAUNCH VEHICLE DEVELOPED BY THE JAPAN AEROSPACE EXPLORATION AGENCY (JAXA). IN RECENT YEARS, SEVERAL START-UP COMPANIES HAVE EMERGED TO TAKE ON THE CHALLENGE OF SPACE TRANSPORTATION, AND IT IS NOW NECESSARY TO PROVIDE FUNDING AND GOVERNMENT PROCUREMENT, TECHNICAL SUPPORT FROM JAXA, AND INSTITUTIONAL SUPPORT FROM RELEVANT MINISTRIES AND AGENCIES TO ENCOURAGE THE COMMERCIALIZATION AND SUCCESS OF OUTSTANDING START-UP COMPANIES.
 To this end, the government will support startup companies that develop and flight-demonstrate internationally competitive launch vehicles, targeting FY2027.
(Assumed output)
 BY THE END OF FY2025, COMPLETE THE SUBSYSTEM DEVELOPMENT TEST (TRL5), WHICH INCLUDES SYSTEM DEVELOPMENT, STRUCTURAL AND MECHANICAL SYSTEM DEVELOPMENT, PROPULSION SYSTEM DEVELOPMENT, AND AVIONICS DEVELOPMENT, ETC.) THAT WILL FORM PART OF THE SPACECRAFT.
 BY THE END OF FY2027, COMPLETE FABRICATION AND TESTING (TRL6), MANUFACTURING AND FLIGHT DEMONSTRATION (TRL7) OF THE ACTUAL SIZE OF THE SUBSYSTEM
(Number of cases to be adopted and amount of subsidy to be granted)

*The total for Phases 1 through 3 is up to 14 billion yen per project.
*Each business can also set a lower subsidy rate and propose the project as a larger-scale project.
*PHASE 3 IS, IN PRINCIPLE, DIVIDED INTO THE FIRST HALF (TRL6) AND THE SECOND HALF (TRL7).
◾️ reference link
SBIR Phase 3 Fund (Small Business Innovation Research), Ministry of Education, Culture, Sports, Science and Technology
https://www.mext.go.jp/mext_02308.html
Ministry of Education, Culture, Sports, Science and Technology SBIR Phase 3 Fund Selection Results of Public Calls for Space Sector
https://www.mext.go.jp/b_menu/houdou/mext_01297.html
Corporation with a fund (Low Carbon Investment Promotion Organization)
https://www.teitanso.or.jp/sbir-monka-hojo/
◾️We are actively recruiting personnel!
We want to go to space from Japan.
We are up for the challenge.
Aerospace technology x Knowledge of different industries x Backcast thinking
Creating new industries for the future.
Do work that is worth the challenge of your life.
Click here for the recruitment page
https://innovative-space-carrier.co.jp/careers/
◾️Our Company
Corporate Name Innovative Space Carrier Inc.
English name Innovative Space Carrier Inc.
Representative CEOKojiro Hatada
Head office address 1-4-1 Nihonbashi, Chuo-ku, Tokyo
Date of Establishment May 2, 2022
Total amount of funds raised 860,000,000 yen
Business Description Planning and study for commercialization of innovative space transportation systems