INNOVATIVE SPACE CARRIER INC.(CHUO-KU, TOKYO; CEOKOJIRO HATADA), A START-UP COMPANY THAT AIMS TO REALIZE A TRANSPORTATION SYSTEM THAT MAKES SPACE REUSABLEPOSSIBLE, HAS RAISED FUNDS THROUGH A THIRD-PARTY ALLOCATION WITH EXISTING INVESTOR INCUBATE FUND AS THE LEAD INVESTOR AND ANIMAL SPIRITS NO. 1 FUND, DENTSU VENTURES SGP FUND, AND OTHER INVESTORS AS SUBSCRIBERS. WE ARE PLEASED TO ANNOUNCE THAT WE HAVE RAISED A TOTAL OF 550 MILLION YEN THROUGH A CAPITAL INCREASE.
◾️Background and progress to date on funding
 WE BELIEVE IN "A WORLD WHERE PEOPLE AND CARGO ARE DELIVERED EVERY DAY. OUR VISION IS TO ACHIEVE HIGH-FREQUENCY SPACE TRANSPORTATION IN THE 2040S USING FULLY REUSABLE SINGLE-STAGE SPACE VEHICLES (SSTOS). OUR VISION IS TO DEVELOP A REUSABLE SPACE TRANSPORTATION VEHICLE IN THE NEXT FIVE YEARS, WITH THE ULTIMATE GOAL OF CONDUCTING HIGH-FREQUENCY SPACE TRANSPORTATION USING A FULLY REUSABLE SINGLE-STAGE SPACE REUSABLEVEHICLE (SSTO) IN THE 2040S.
 SINCE ITS INCEPTION IN MAY 2022, THE COMPANY HAS MADE PROGRESS IN RECRUITING PERSONNEL, DEVELOPING PLANS, AND BUILDING A FRAMEWORK FOR COLLABORATION WITH BUSINESS PARTNERS; AS OF AUGUST 2023, IT HAS HIRED 16 PEOPLE AND ACCEPTED 4 PEOPLE ON SECONDMENT; IT HAS SIGNED A MEMORANDUM OF UNDERSTANDING WITH JAXA ON BUSINESS CONCEPT CO-CREATION, REUSABLEAUTOMATIC OPTIMIZATION FLIGHT ANALYSIS FOR SPACE TRANSPORTATION SYSTEM STUDY WE HAVE ALSO BEEN PROMOTING SPECIFIC STUDIES BY CONCLUDING A JOINT RESEARCH AGREEMENT ON THE DEVELOPMENT OF A TOOL FOR AUTOMATIC OPTIMIZATION OF FLIGHT ANALYSIS FOR SPACE TRANSPORTATION SYSTEM STUDIES.
 As for collaboration with business partners, as a result of repeated discussions with various companies regarding collaboration, we have concluded agreements with the following companies and universities to establish a system of collaboration.
 Based on the progress of the business as planned at the time of its inception, as described above, we worked with the lead investor, Incubate Fund, to raise funds, which resulted in the current procurement with the support of several new investors.
◾️Cooperation system with business partners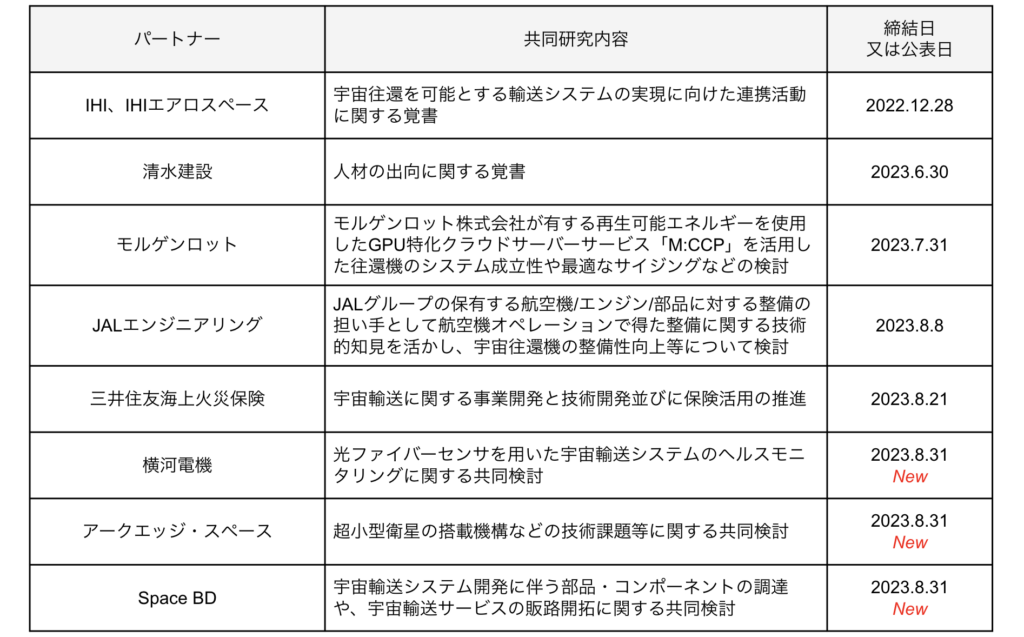 Animal Spirits has established its first fund in February 2023 to invest in seed- and early-stage startups that develop businesses that contribute to "social change for future generations. The fund's management policy is to provide support for business strategy, fundraising, customer development, and human resource recruitment, as well as follow-on investment, in response to requests from the investee.

 This time, our company's efforts were evaluated as "leading to the creation of a new industry that will revolutionize the way people live," and they decided to invest in our company.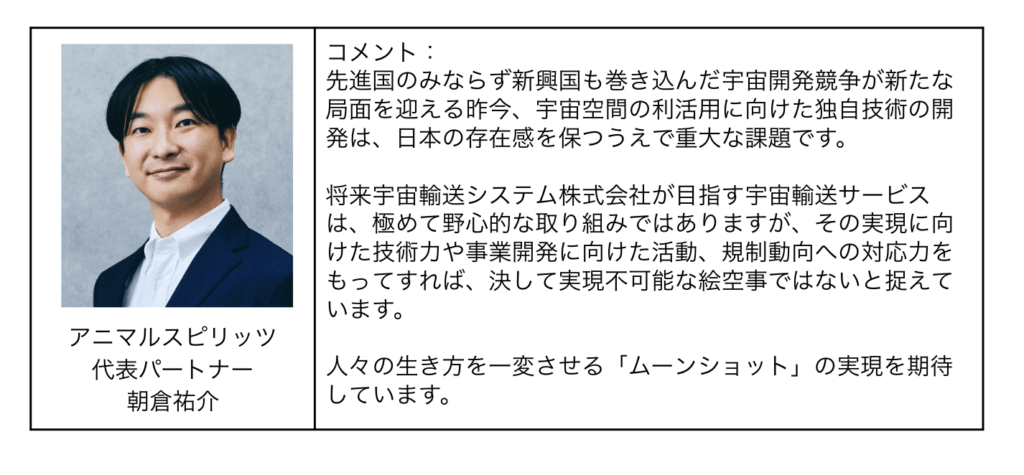 The Dentsu Ventures SGP Fund aims to support the medium- to long-term growth of startups through both financing and business support. (SGP), an organization dedicated to supporting startups, and Dentsu Ventures, the corporate venture capital fund of the Dentsu Group Inc. Startup Growth Partners not only provides marketing growth support, but also promotes alliances with major companies, formulates growth stories for fundraising and IPO, and creates new businesses through joint ventures (JVs).

 This time, they highly evaluated the possibility of business collaboration from the viewpoint of maximizing the added value of our space transportation business, and decided to invest in us.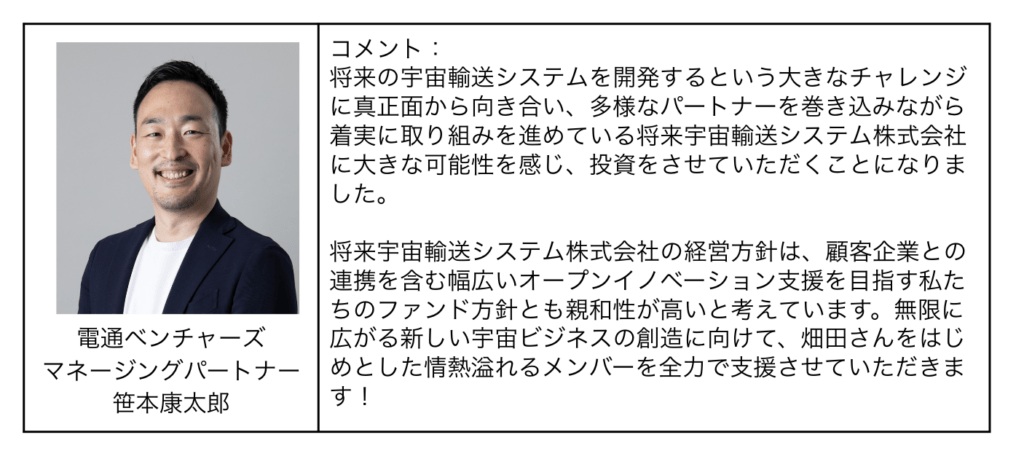 IN ADDITION, THE COMPANY RAISED A TOTAL OF 550 MILLION YEN THROUGH A THIRD-PARTY ALLOCATION OF NEW SHARES BY ISSUING PREFERRED SHARES TO A FUND MANAGED BY INCUBATE FUND, A LEAD INVESTOR, A-1 LLC, AND INDIVIDUAL INVESTORS.

◾️ Purpose and Use of Funds

 Together with the funds raised this time, we will engage in research and development of elemental technologies necessary for the development of space transportation systems, while making the most of government start-up support measures.

 At the same time, we will work with the new investors to brush up the business side of the business, aiming to realize an internationally competitive space transportation service.

◾️We are actively recruiting personnel!

We want to go to space from Japan.

We are up for the challenge.

Aerospace technology x Knowledge of different industries x Backcast thinking

Creating new industries for the future.

Do work that is worth the challenge of your life.

Click here for the recruitment page

 https://innovative-space-carrier.co.jp/ careers/

◾️Our Company

Corporate Name Innovative Space Carrier Inc.

English name Innovative Space Carrier Inc.

Representative CEOKojiro Hatada

Head office address 1-4-1 Nihonbashi, Chuo-ku, Tokyo

Date of Establishment May 2, 2022

Total amount of funds raised 860,000,000 yen

Business Description Planning and study for commercialization of innovative space transportation systems